Digital transformation brings to economy great opportunities… and new dangers! Cybersecurity become a fundamental business need.
Our consortium is made with alliances between services companies with cybersecurity experts and specialised editors / tech companies.
We provide tailor-made services and solutions in the following areas: consulting, training, investigation, prevention, protection, detection, reaction.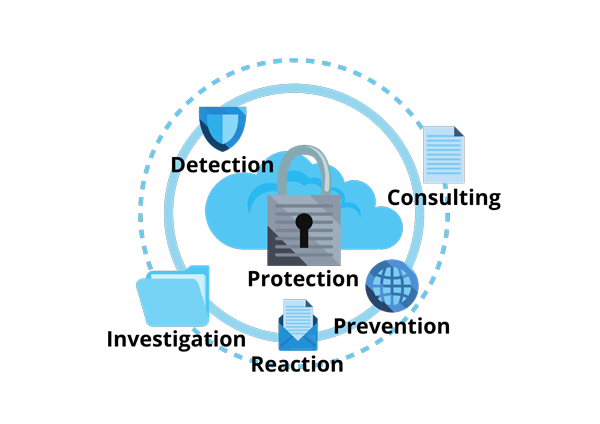 KEY FIGURES
Discover below
some customer cases
INFOGERANCE AND OPERATION
Operational support, business continuity management, Managed Security Service Provider (MSSP), trusted third party
GOVERNANCE, AUDIT & TRACEABILITY
Security Information and Event Management (SIEM), Management systems, tracking and monitoring
IDENTITY MANAGEMENT
Access control, identification, authentication, biometric systems
CONSULTING, AUDIT & TRAINING
Audit, vulnerability and pen testing, risk and threat management, forensics
MOBILE & WEB PROTECTION
Content filtering, application filtering, communications security
ENCRYPTION & DATA SECURITY
Key Management Infrastructure (PKI), Digital Rights Management (DRM), Data encryption, archiving
APPLICATIONS SECURITY
DevSecOps, Development, testing, modeling
SECURITY OF INFRASTRUCTURE & EQUIPMENT
Web Application Firewall (WAF), Firewalls, antivirus, anti-dos, Intrusion Detection System (IPS / IDS), Hardware Security Module (HSM), network encryption hardware, Hardware Security Module (HSM)
SECURITY OF INDUSTRIAL NETWORKS
Security and supervision of industrial networks, partitioning of equipment
E-MAIL SECURITY
Encryption, anti-spam, secure messaging