Digital technologies will become a major lever for sustainable development !
The will of many public and private international organisations to put the digital transformation at the service of the environmental transition is based on two objectives:
Develop knowledge and measure the societal and environmental impact of the digital sector
Leveraging state-of-the-art technology to fight against climate change, biodiversity loss and pollution.
We meet these challenges by providing tech expertise in the areas of health, mobility, energy and the environment.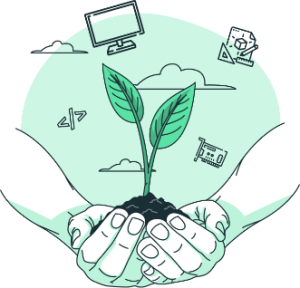 Discover below
some customer cases
GREEN AVIATION
Our ecosystem comprises the entire aviation value chain: manufacturing, airlines, engineering, suppliers, airports, air traffic managers, regulators. We have numerous projects to make the aviation greener : design and production of new zero-carbon airplanes, evolution of existing models to a lower carbon print-foot, development of new green fuel (SAF, green H2), evolution of the entire value chain, including airport operations.
GREEN & RESPONSIBLE IT
As the wind of green change is blowing on our industry and our territory, our Digital companies turn Green too, offering new technologies and services such as: Slow and Low Tech implementation, Low-Code / No-Code applications, Greener Cloud, Social impact reduction in production, LEAN / agile methods, NR labelization, change management…
DECARBONIZATION OF THE INDUSTRY
As we habe a huge industrial ecosystem, we are involved in several domains to make the instry greener: Energy efficiency software, Advanced photovoltaic, Bioenergy, Energy storage system, Wind power, Grid Integration, Hydro power, green hydrogen, thermal battery and heat exchanger…